Simone Guest SNR MCCH MARH MBTPA
Bowen Therapy and Homeopathy
07497 767580
I qualified as a State Registered Nurse. Whilst training my interest in natural medicine began. Much later, with family grown up, I became a registered homeopath. Because of my own long-standing back problems I wanted to be able to offer others a gentle hands-on treatment. The Bowen Technique fitted the bill and I've enjoyed being in practice for over 20 years now.
I am a full member of the Bowen Therapy Professional Association, and a member of the Alliance of Registered Homeopaths.
I regularly attend courses to extend my learning for my continual professional development.
---
Maria Chrysostomou MAR
Reflexology, Vertical Reflex Therapy (VRT), Thai Foot Massage, Reiki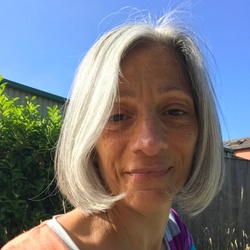 I began my journey working with people and their health in 2002 as a gym instructor. Overtime I came to realise that to achieve overall well-being we need to address our emotional, mental and nutritional needs. This is what brought me to work in natural health.
Having on-going back problems I tried reflexology and reiki, both of which helped me immensely. I was so impressed with the results I had that I thought it would be good if I could help people in the same way that I was helped. I initially trained as a reiki practitioner in 2002 and then as a reflexologist in 2003. My reflexology training was with the Association of Reflexologists (AoR).
I am a member of the VRT Network and a full member of the Association of Reflexologists; this ensures that I work to a strict Code of Practice and Ethics and attend regular seminars and courses as part of my continuing professional development.